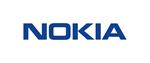 Nokia Oyj
Pörssitiedote
7.7.2020 klo 17.45
Muutokset Nokia Oyj:n omien osakkeiden omistuksessa
Nokia on tänään luovuttanut 113 939 yhtiön hallussa ollutta Nokian osaketta (NOKIA) vastikkeetta suorituksena Nokian osakepohjaisiin kannustinohjelmiin osallistuneille työntekijöille ohjelmien ehtojen mukaisesti. Osakkeiden luovutus perustuu 6.2.2020 julkistettuun hallituksen päätökseen yhtiön hallussa olevien osakkeiden antamisesta ohjelmien mukaisten sitoumusten täyttämiseksi.  
Nokia Oyj:n hallussa olevien omien osakkeiden lukumäärä luovutuksen jälkeen on 31 888 008.
Nokia
Luomme teknologiaa yhdistämään koko maailman. Vain Nokia tarjoaa kokonaisvaltaisen valikoiman verkkoratkaisuja, ohjelmistoja, palveluita ja lisensointimahdollisuuksia maailmanlaajuisesti. Innovaatioidemme ja palkitun Nokia Bell Labsin johdolla olemme 5G-verkkojen kehityksen ja käyttöönoton kärjessä.
Radioverkkojemme avulla viestintäpalveluja tarjoavat asiakkaamme palvelevat yli 6,4 miljardia liittymää, ja yritysasiakkaamme ovat ottaneet käyttöön yli 1 300 teollisuuden verkkoa ympäri maailmaa. Sitoutuen korkeimpiin eettisiin liiketoimintaperiaatteisiin muutamme ihmisten tavan elää, työskennellä ja viestiä. Seuraa meitä verkkosivuillamme www.nokia.com ja Twitterissä @nokia.
Lisätietoja tiedotusvälineille:
Nokia
Viestintä
Puh. +358 (0) 10 448 4900
Sähköposti: press.services@nokia.com
Katja Antila, johtaja, mediasuhteet
---
This message was sent to newsnokia.post@blogger.com.
If you wish to no longer receive these messages you can
unsubscribe
.